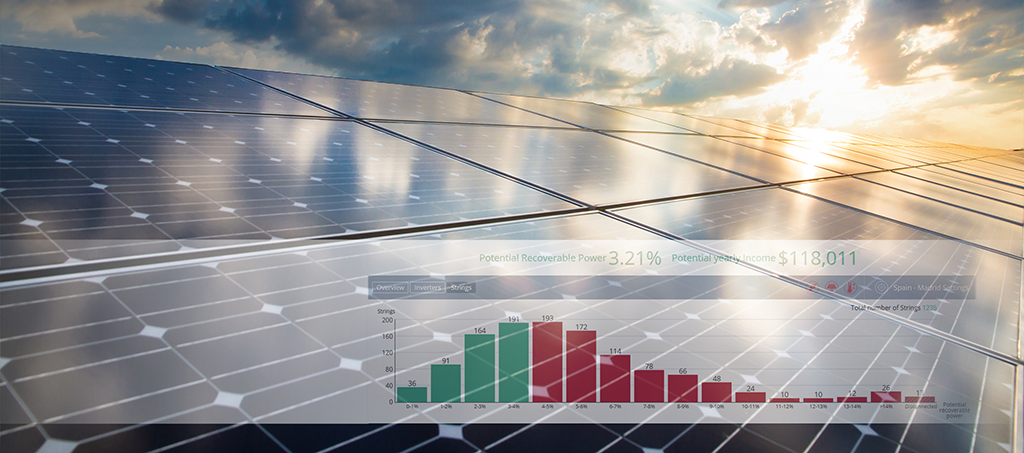 There is a general agreement that digital transformation is the next step for the solar photovoltaic industry. As plant income/MW is falling, IRR is going down due to market maturing and di-risking of assets and yield, and operations expenses are increasing, business processes must become more efficient, integrated and autonomous. 
Digital Transformation in Practice
So asset owners and operators are more interested than before in optimizing their existing plants using digital transformation tools and techniques. But where does the buzzword meet reality?
Digital transformation is all about the data. Fortunately, there is plenty of data out there! All we need is to use it effectively. This is done by data integration from different systems; data optimization and noise elimination; smart data analysis; and AI & machine learning processes. These methods enable analytics systems to provide data-driven insights and automation.
The Existing PV Software Landscape
Industry-specific computing tools include two major types of systems:
Financial asset management systems: These kinds of systems allow the management of financial and operational processes such as billing, logistics and enterprise resource planning (ERP). They provide, among other things, various business documents, contracts, invoices, workflows and ticketing capabilities.
Monitoring systems: These kinds of systems provide real-time asset visualization of the solar plants. The monitoring systems mainly serve as sources of raw technical data collection and logging.
But how will we know which technical issues to address, where, when and how?
There has been several available data analysis tools and services that tried to address these issues: thermal imaging (drones) solutions, preventive maintenance, consulting, local tools (e.g. customized Excel tables), and manual I–V Curves. However, all these methods provide very limited analysis in terms of accuracy and scope, and cannot automatically apply the customers' business logic. So how can we reach the right conclusions?
Digital Asset Management
The answer is clear: we need a THIRD integrated software layer, between the financial asset management systems and the monitoring systems, that analyses the raw technical data; finds and quantifies performance issues and their respected recoverable energy; and then provides a smart corrective action plan. This kind of AI analytics layer, which we call "digital asset management", is completely data-driven, proactive, prioritized and ROI-oriented. It is where the users' business logic really kicks in, as they can make the data "work for them" – whether they are solar asset managers, owners or O&M. We believe this is the future of solar PV optimization.
Here are some of the processes that solar asset managers and operators can carry out by using a digital asset management system:
Carry out only relevant O&M activities, not procedures
Use data-enabled drones when relevant, not for the sake of doing it
Gain full visibility of all the different components in the portfolio
Perform I–V Curve measurements only when needed
Understand when they should file a warranty claim to the manufacturer
Identify low performing inverters
Identify disconnected strings
Identify heavily degrading modules
Identify faulty irradiation sensors
Establish an ROI-based revamping plans for their assets
The Impact and Benefits of Digital Asset Management
Digital asset management allows solar professionals to take their existing systems and investments to the next level, without investing in new plants, hardware or personnel. By making the existing technical and financial solutions completely data-driven, asset owners and managers can stop guessing – they KNOW what to do. The O&M teams can stop performing unnecessary and laborious manual tasks, just specific and focused ones that are actually required in the current time. This empowers these teams, boost performance and saves costs, and in our view, it is by far the most tangible and valuable software layer for the asset manager.
Digital asset management has some clear benefits. Based on the analysis of more than 4GW of solar assets by our proprietary DeepSolar™ system, identifying the actual recoverable energy in the plant adds 4% to 5% of yield on average, and reducing the operational costs with on-demand smart maintenance can reach up to 30% of O&M savings.
By getting ROI-driven and prioritized action items, asset managers can clearly see what are the performance issues, where they are in the plant, how and when to solve them, and sometimes not less important – whether fixing them is a worthwhile investment. They can do it by applying their own business logic, work processes and thresholds.
The solar industry must adopt an automated and proactive approach, and base its actions on analysed data instead of manual processes or mere "feelings". This is the only way it can thrive and strengthen its competitiveness in these challenging times.
https://raycatch.com/wp-content/uploads/2020/08/RC_Blog-img_1024x453_Digital-Sample-01.png
453
1024
admin-d3v
/wp-content/uploads/2020/06/logo-full-color.png
admin-d3v
2021-11-29 15:07:50
2021-11-29 15:07:52
How to Maximize Solar Energy Generation with Digital Asset Management